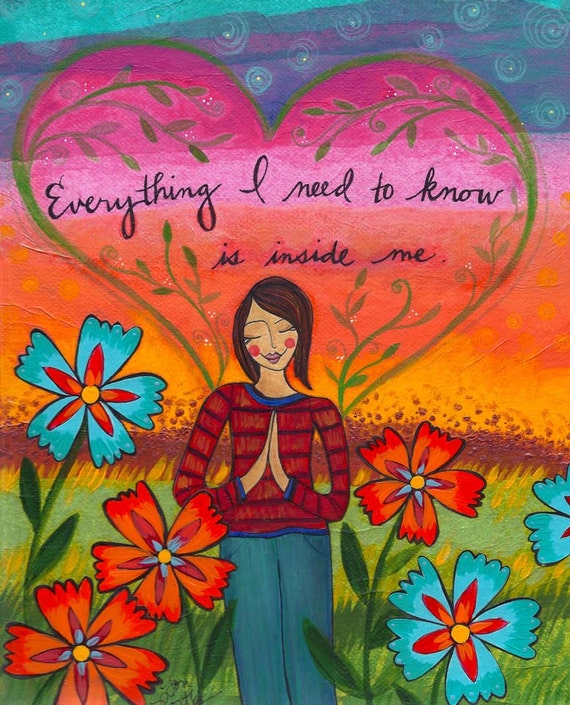 I always get a little jittery before writing a post, which is funny considering how long I've been coming here writing posts. I'm starting to look at this less as me being anxious and more as me moving toward my ALIVE. It's life stirring in me, wanting to get OUT--to share & be shared. But this post is different in the way that the jitters are even more jittery—the ALIVE bursting at the seams to be shared before I retreat in utter terror.
Okay, I'm back. I keep stopping and starting this post and then clicking onto some other internet page with hope that something will give me the courage to say what I need to say...what my inner most self keeps nudging me to share—to DECLARE.
I tell you this because I want you to know that I am

fully

feeling the fear (all the way down to my little toes) but choosing to move anyway. I'm telling you this because I so don't want you to think you need to wait until the fear goes away before you leap with the whole of you into that thing that is calling you, into that thing that won't get out into the world in the same way ever, unless you claim it as yours.
I'm in the process of creating an online "class" (I put class in quotes for lack of a better word) – a creation that I intend to pour the whole of me into, a creation that will take every ounce of my courage and Real and resolve. Though I'm still working out the details, I feel called to move, to step, to share anyway. The creation of this will be a moment by moment, breath by breath feeling-the-fear-but-doing-it-anyway sacred unfolding.
I have a sense of clarity & resolve around this (that's been a long, long time coming) & I just know it's what I need to do.
My vision is that this will come through me -- straight from my center, ME baring it all. Me being ME--fully & absolutely, in hopes that me being me will invite & inspire & encourage you to be YOU - unapologetically, boldly, with wild, love-filled, faith-filled abandon.
It will be 40-ish days of pouring myself into this & then sharing it all.
In this 40 day "class"..there will be lots of uncensored/unpolished videos of me sharing my "REAL," real/raw conversations with other women on similar paths -- poetry, art, exercises, challenges, invitations...me

sharing my challenges, my inspiration -- all of the tools & treasures I've gathered over the years. I am trusting that by showing up as fully me as I know how to, that this will be a gift to others (and to myself).
It feels crazy & scary to declare this before I know fully the hows & whens. But it also feels bold and empowering and necessary (and the only way I want to do it).
Right now the whys are all that matter.
I'm so very tired of listening to voices of "reason," of thinking I need to do what is "realistic" and linear, what makes "sense" to the mind (minds) that is so keen on keeping me chained to "safety" and smallness. I'm so very tired of listening to the voice (voices) that insists that my way isn't enough somehow.
I see clearly how trusting this fire in my belly, how faith in myself & in some nameless Source beyond myself, is what I want to lean fully into. I want Faith to be my safety net, my voice of reason. I want creating with wild, me-filled, love-filled abandon to be the only thing that makes sense.
A huge theme in this class will be to begin NOW from right where we are, to not wait until this or that...to TRUST, to know that the answers are within when we get the mind shit out of the way & listen like crazy to our lives. This is what I intend to do.
Creating this will be a 40 day practice of me coming back to me...over & over again.
So...now, I want to share the title with you (Can you hear the drumroll?)...
Getting Naked
Shed the excess. Come back to YOU
.
There will be lots more details to follow.
For now, can I just say...